Value My Car
Discovering your cars value has never been easier. To begin, simply click the button below and enter your cars registration number.
Why Choose Top Deals 4 Wheels?
Instant Transfer of Funds
We use instant bank transfer so you receive the agreed price for your car in a matter of seconds. Before we drive your car away, we ask you to check your nominated account and confirm the money has arrived.
Free Home Collection
We don't expect you to make an appointment and drive your car to us to inspect. Instead, we arrange a time that's convenient for you to collect your car directly from your home.
No Appointments
Time is precious and we think it's best to spend 10 minutes on the phone with you discussing your car rather than asking you to drive to a centre to have it inspected.
An Accurate Car Valuation
Why get an instant car valuation that isn't based on your cars actual condition when you can get an accurate car valuation that is. Our experts take time to talk through the details of your car to give you a fair and honest price.
Avoid the Hassle of a Private Sale
Selling your car privately can be a long and drawn out process. This can all be avoided by using our simple and convenient car buying service.
7 Day Price Guarantee
The valuation we provide is fixed for 7 days. This gives you plenty of time to think through your options and come back to us when you're ready to proceed.
Sell Your Car Same Day
Looking for a super quick sale? No problem. Once we've provided an accurate valuation and you've agreed that you'd like to proceed we can arrange to collect your car the same day and transfer the funds to your account instantly.
No Pressure Sales
We don't believe in pushy sales tactics, in fact, we don't employ salespeople. Our customer advisers are experts at accurately valuing cars and are on hand to help guide you through the process of selling your car online.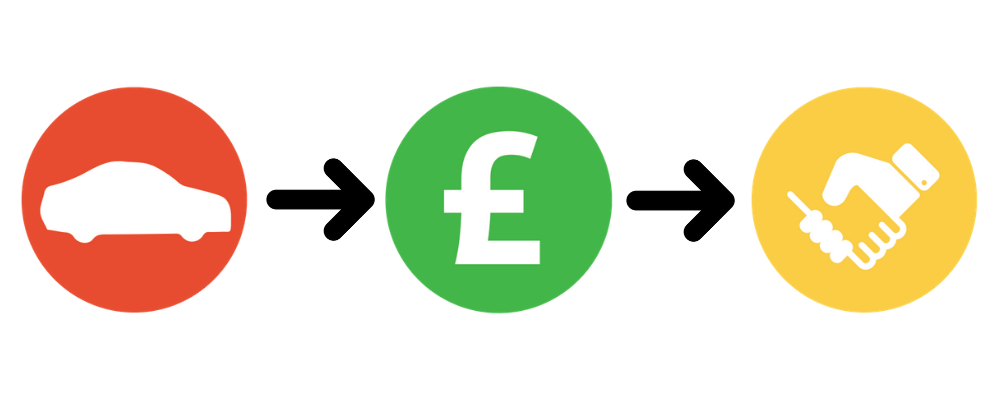 What Details Do I Need to Value My Car?
When you enter your vehicle registration our clever system will automatically gather lots of information about your car from the DVLA and other sources. This helps speed up the process for you but we still need a few key details that only a car's owner can provide.
You Will Need
• Registration Number
• Car Mileage
• Service History
• MOT Details
• Your Contact Details

Discover Your Cars True Value
When you decide to sell your car the first thing you want to know is how much it's worth? If you type 'Value My Car' or 'What's the Value of My Car?' into a search engine you will be presented with a lot of options.
There are no shortage of websites offering instant car valuations and you may have already entered your details into one or two and have a number of different quotes.
Instant car valuations are typically programmed to give you the best-case scenario. They take basic information about your vehicle and provide a figure that makes a lot of assumptions regarding its condition.
You are then asked to drive your car to one of their centres where they inspect your vehicle and, depending on any issues they find, negotiate a lower price with you.
At Top Deals 4 Wheels We Do Things Differently
When you enter your car registration details you will be asked to fill in a simple to complete, yet detailed form. This form captures all the basic information we need for our experts to make an initial assessment of your vehicle. We do not provide an instant car valuation as we don't yet have all the details we need to provide an accurate price.
Once we have reviewed your cars details one of our friendly and professional team will call you. It's their job to confirm the details you have already provided and ask a few more questions regarding your car's condition.
Now we have a detailed description of your car we can provide you with a true and accurate valuation. It's only through talking to you that we can gather the necessary details to provide an accurate valuation of your car. If all the details you have provided to us are correct then the valuation you receive is the price we will pay.